Beauty is human nature,
So I never regret to engage in the cosmetics industry,
Because make-up is a courtesy and shows the beauty of the girl around
the praise of the sound with the reason why we are able to drive force behind better service.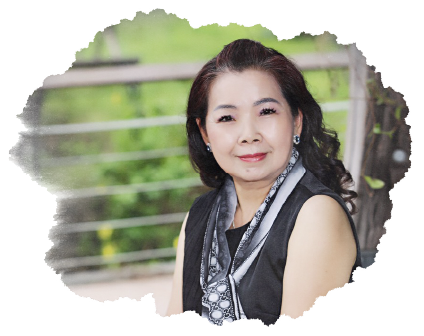 As always , our team to run the cosmetics industry as a cause of conscience in the business,
We do not envy the development of others how fast they can go , Because the value of life is not what to choose but to do great work, is to make their own choice worth, Seriously play your own role.
I am in the competition in the cosmetics industry after several ups and downs, and uncounted days between smooth and hard time, but I repeatedly told myself,
"The hardest thing is to stick to it, the easiest thing to give up"
From failure, I realized that with quality to take root,
Ready for sustainable management.
In the process of struggling step by step,
Also We have successfully gone through the stages of hard, Or the transformation of rebirth,
But as long as keep professional and decent,
The courage to face the success or failure,
Do not set the limit for yourself, besides,  beauty is only with classic and there is no end.
In order to challenge themselves,
So encouraged me (My husband Mr. Shu),
He had the honor to serve as chairman of the Cosmetics Association for four-time, Honorary chairman,
We resolutely decided put into operation for factory in Guangdong Province ,mainland China in 1984
Dreaming of a good job deep plowing Taiwan, based on the mainland, and look at the global
I remember that university professors have encouraged us to dream, And then perseverance to build success.
Frankly said that during the period of the mainland, Behind every industry has its own bitterness,
Fortunately, I am blessed by god, And I always obtain favors when I need help ,
And I also continue to spur to be a CEO role, The staff as a career lifelong partner, So let the followers have goals,
Indebted to be number one in the industry , also to compete as the best in the industry.

Recently, the Ministry of Economic Affairs has injected large sums of money through small and medium-sized foreign trade associations,
To assist small and medium enterprises to develop brand,
Meikwang Cosmetics Science & Technology Factory was fortunate to accept Zhenguan consultants company counseling,
Towards the "brand" forward,and realize that "the brand only and the combination of access, have more room."
At present, China Meiya (Huizhou) Cosmetics Co., Ltd. adopted access to brand,
Brand regeneration, Multi – brand marketing strategy. Look forward to glow heat, blossom everywhere.
I can calmly expose my age,
I have confidence in our own skin care products,
People have confidence and then naturally accumulate popularity all the way
I advocate the philosophy of rice,
Always keep low-key and then low-key,
I am grateful along the way for those staff and sub-contract manufacturers with a kind of revolutionary emotion, so I cherish the current "eat sugar cane" results.
But also hope that those entrepreneurs who are interested in joining hands with us to create a better future together.